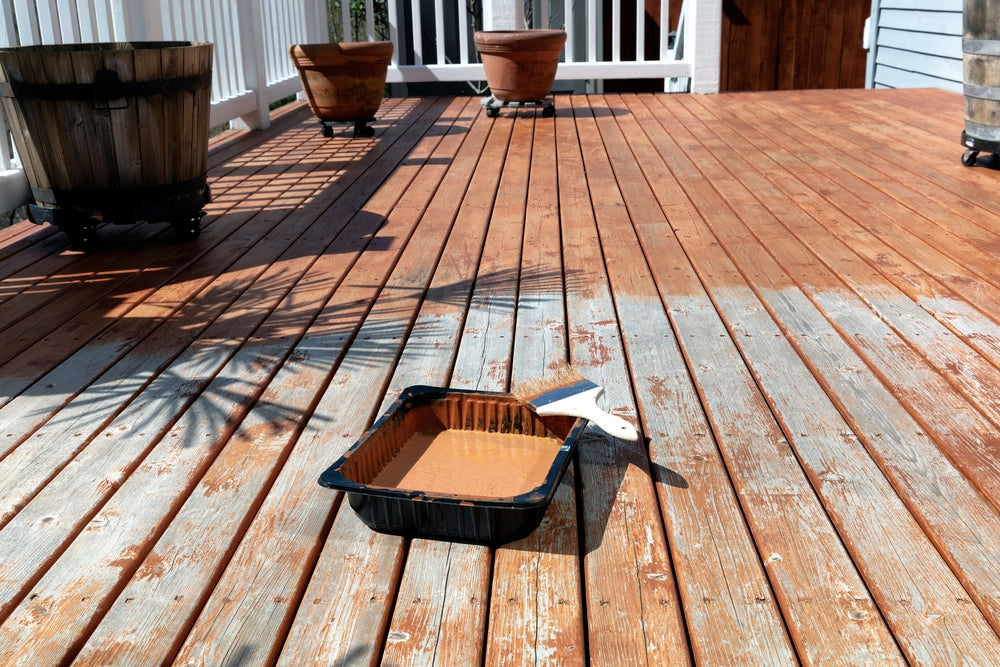 Outdoor furniture and structures look great when they're brand new, but after being exposed to the elements for some time, they begin to wear down.
Spring has finally arrived in Ottawa, the warmer weather driving us out of our homes to see the havoc the harsh winter has wrought on our outdoor woodwork. There's no escaping the damage sunlight, rain, and snow creates, but there are ways we can fix them and restore our furniture to its original glory.  
You can protect the wood in one of two ways: either stain or paint. Stain is the more popular option, as it maintains the wood's design, whereas using paint will completely cover the beautiful grain. 
Staining a wooden deck doesn't just enhance its beauty but also adds a protective layer that will help the wood look great for years to come.
What You Need to Know About Exterior Wood Stain
A good exterior stain should protect that natural wood from harmful UV rays, mold, and foot traffic while giving the furniture a stunning, glossy look.
Wood stains and sealants are often mistaken for one another, though each material has its uses and benefits. Wood sealants go on transparent to show the grain and natural wood colour, which helps prevent water penetration and rot.
A stain has the same preventative properties, though it contains a pigment that blocks UV light damage and wards off cracking and discoloration.
Different Types of Wood Stain: Which One Should You Choose
Wood stains come in a wide variety of pigments, though their main goal is to protect the wood while changing its appearance and enhancing its grain.
Stains can be categorized based on their transparency and base, with the most popular choices containing oil or water bases.  Oil-based stains are the favoured choice, as they are the most durable and economical option. This material soaks into the wood and dries slowly, thanks to the infused linseed oil which helps achieve a more even, professional finish.
When applying the oil-based stain, be sure to do so in a well-ventilated area, as the material contains an extensive list of chemicals, with some of them classifying as Volatile Organic Compounds. 
Water-based stains, on the other hand, are a newer technology that is more resistant to UV rays than their oil-based counterparts. While this type of stain doesn't emit VOCs, they are much more complex to apply as they do not soak as deeply into the wood and as a result, dry much quicker.
Hybrid wood stains offer the best of both worlds by combining the durability and low VOCs of water-based stains with the ease of application and appeal of the oil-based component.
Give the Outside of Your Home Some Love
Has your deck suffered from a little wear and tear after Ottawa's harsh winter? 
Whether you're looking to get your newly built deck stained and sealed or want to rejuvenate an old deck, our experts at Bonds Decor and here to bring your vision to life. Check out the wood stains we carry in-store. 
Reach out to us to learn more about deck stain types and get your project started today.