Our Preferred

Brands of Paints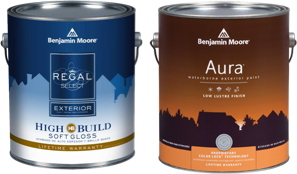 Why We Love Benjamin Moore
With these premium performance paints and smooth applications, Benjamin Moore makes painting fun and effortless for first timers and professional painters alike. We carry Benjamin Moore because we're sure that they've got the perfect paint for your next exterior paint project in Ottawa, from start to finish.

Why We Love Pittsburgh Paint
Spending some quality time prepping the surface of your project is the key to a dramatic difference in the final result's look and lasting impression, but it's the least exciting part of painting your home. Pittsburgh Paint makes project preparation and application easy – and even fun – with so many one of a kind colour, texture, and shine options to choose from for first timers and Ottawa professional painters alike.
Featured Projects
Using Our Quality Paints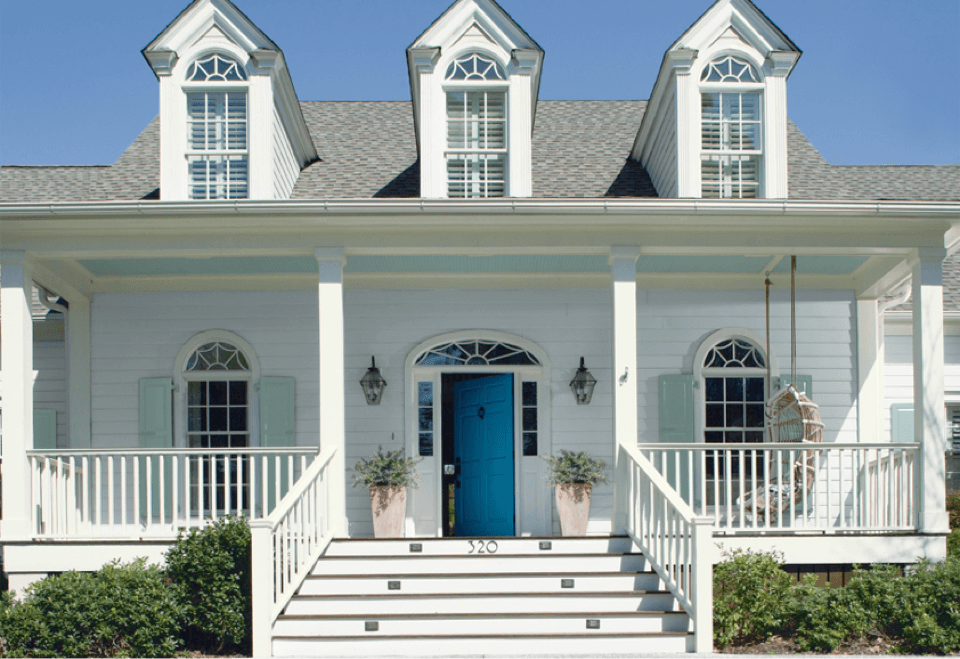 Frequently
Asked Questions
If you are planning to start and exterior painting project, you need to consider the type of paint you will be using, as well as how to work around the rain.
Acrylic paint needs at least 2 hours to dry properly before rain hits it. If there is a prolonged period of rain, or a short but heavy rainfall coming, then you would need at least 6 hours. If it has recently rained, you will want to check that the surface is dry. A little bit of moisture is okay as acrylic paint can let small amounts pass through the coating without ruining it.
Oil based paint takes anywhere from 2 to 12 days to dry, and can't have any kind of contact with moisture. As such it isn't recommended for use in exterior painting.
There are a few instances where using primer is necessary for getting the best look from your exterior paint:
If you are changing your paint colour, especially from a darker colour to a lighter one.
If you are painting over bare wood.
If you are painting over brick surfaces.
If you are painting slick and glossy surfaces.
If you are covering blemishes caused by removing stains.
There are a small number of cases where you don't need to use primer:
If you are refreshing the existing paint colour.
If there are no blemishes and bare spots to cover.
If you are not painting over a glossy surface that isn't wood or brick.
For optimal coverage and appearance, 2 coats of paint on a well-primed surface is typically all that is needed.
There are a few important steps you need to take before you can get the new paint on your walls.
The first step is to clean the surface. It should be clean, dull and dry before you start painting. Cover nearby landscaping with plastic to protect it, then wash off any chalk, dirt and mildew that has built up on the exterior surface.
After cleaning the house, look for any peeling or cracked paint and scrape it off. After that, you will need to sand the surface and apply primer. Once the primer dries, the surface is ready to paint.
This is perhaps the most difficult decision you'll make with regards to your exterior painting projects. The colour you paint your house exterior is something that you'll be looking at for a long time, many years! Exterior paint colour is the first impression people will have of your home! Exterior paint sets the mood and the tone for your home. Not only do you have to be satisfied with the paint colour in the years to come, it's worth at least thinking about resale. You'll want to select an exterior paint colour that matches well with other exterior features of your home, such as bricks, roof, siding, etc. Trim colours can complement main exterior paint colours nicely. Lighter colour paints absorb less heat and are less likely to fade, so keep this in mind for exterior paints for homes or areas that are exposed to more sunlight. Lighter exterior paint colours will also make a home seem bigger. That's why many home exteriors have traditionally been painted white or light colours. It doesn't mean that you have to, but this exterior paint tip is worth considering. Your Bonds Décor Ottawa paint specialist will be happy to work with you to select paint colours.
For starters, you can always come back to Bonds Décor to buy more paint. So, it's better to buy too little exterior paint than too much. Calculate the surface area being painted and divide that by the number of square feet a gallon of paint can cover. We can help you find this number, or the paint company's website should have this info. Also important for exterior painting is the type of surface you'll be painting. A rough or porous surface will require more paint than a smooth, well-sealed surface. Your Bonds Décor Ottawa paint specialist will be happy to work with you to get the right amount of exterior paint for your home painting project.
In Ottawa, it turns out that this is a very good and important question. You won't want to paint your home's exterior in temperatures near freezing, that's for sure. But ideally it will be a little warmer than that, even, starting at around 10 degrees Celsius, 15 even better. What's too hot? Well, again ideally, you'd not be painting the exterior of your home on a day where the temperatures are climbing over 25C. Paint is best applied when the temperature of the air, surface and paint are all in the range of 15C~25C. Check the forecast to see what the temperatures will be like, as well as the chance of precipitation. While it's preferable to avoid painting the exterior in a rain, sometimes it happens. Concerned about the present or upcoming weather for your exterior paint project? Ask a Bonds paint pro, we're happy to help.
This is really a personal preference. If it's your first time painting a home, especially the first time doing exterior painting, we invite you to speak with a paint expert in Ottawa at Bonds Décor. We'll ask you about what you're painting, what your experience is, and then we'll show you some of the products we carry (paint brushes, rollers, etc.) and talk about what could be best for you. There's no one-size-fits-all solution when it comes to exterior painting. We're happy to help find what's best for your home painting needs.
Let Us Know

How Bonds Decor Can Serve You!

At Bonds Decor we're proud of our Ottawa roots, serving this amazing community for nearly a century. We've helped tens of thousands of Ottawa residents make their homes and businesses more aesthetically pleasing – and their lives a little better in the process. How can Bonds Decor help you?
Ottawa Showroom
1242 Bank St.
Ottawa, ON K1S 3Y3
Stittsville Showroom
150 Iber Rd.
Stittsville, ON K2S 1E7
Ottawa Industrial Location
2212 Gladwin Cres.
Ottawa, ON K1B 5N1