Our Preferred

Brands of Stains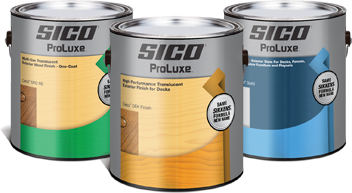 Why We Love Sico Proluxe
Sico Proluxe Stains come to you from the same people that make Pittsburgh Paints: PPG. For decks, siding, windows and doors, it's hard to rival the quality that Sico ProLuxe provides. With these stains you'll get a distinctively rich and vibrant finish. Sico ProLuxe premium wood stains and finishes are designed to provide unrivaled looks, durability and performance on all kinds of exterior wood.
Why We Love Olympic Stains
Olympic® Stains have meant exceptional protection and durability for all wood types, projects &budgets since 1938. When it comes to protecting and enhancing word, there's little competition for Olympic Exterior Stain. Trust the natural beauty of your wood to Olympic Stains. Find the perfect wood stain or finish to bring out the natural beauty of the wood in your project.

Why We Love Ligna Oil Stains
Ligna oils are designed to protect, seal, and clean all your wood surfaces to keep them looking brand new. Their top-quality oil stains are made in Canada using a process that was developed by a renowned European lab. At Bonds Decor, we proudly carry their PRONTO oil and EASY-SOLO oil. Both oil stains can be used on interior floors, furniture, kitchen cabinets, and other woodwork.
Understanding

Opacity

is Key

When it comes to the impact stain will have on your deck's design, understanding opacity is key. Opacity is the degree to which you can see the natural grain of wood, achieved by using one of the following…
Clear
Clear stains let wood weather naturally, with waterproofing & fade protection for decks, fences, siding, wooden furniture & structures.
Translucent
Translucent or transparent toner maintains the natural beauty of wood decks, fences, etc. with just a hint of colour.
Semi Transparent
Semi-transparent stains give a subtle colour that still highlights wood grain & texture, with more protection that clear stains.
Semi Solid
Semi-solid stains show less of the wood grain but offer the trade-off of increased durability and protection.
Solid
Solid stains generally provide the highest level of protection, concealing most of the wood grain in the process.
Featured Projects
Using Our Quality Stains
Frequently
Asked Questions
There are some key differences between stain and paint, and some essential ways to tell them apart and to know which you need. While stain provides protection similar in ways to how paints do, stain has a thinner consistency and soaks into the wood (whereas paint resides on the surface). Stain generally doesn't require as many coats as does paint. Stain tends to dry faster, which is good news if you're staining a deck or fence, for example, and it's exposed to incoming weather. Stain features a more natural look, bringing out the best of the wood's highlights versus paint which covers wood. Stain is matted, versus the range that paint provides in matte to sheen. Stain does change the colour and tone of the wood but keeps it within a natural range. If you're looking to give wood a natural look, and you are coating a high-traffic wood surface (and/or one that's exposed to the elements), stain is a great choice. Your Bonds Décor Ottawa stain specialist will be happy to answer any other stain questions you may have.
The first thing we like to let folks know is that you can always come back to Bonds Décor to buy more stains. That's why it really is preferable to buy too little stain than too much. Calculate the surface area being stained and divide that by the number of square feet a gallon of stain can cover. We can help you find this number, or the stain company's website should have this info. Also important for stains is the type of surface you'll be staining. A rough or porous surface will require more stain than a smooth, well-sealed surface. Your Bonds Décor Ottawa stain specialist will be happy to work with you to get the right amount of stain for your home staining project.
There are similarities between paint prep and stain prep. To be sure, you will want to clear off and clean the wood surface you are going to stain. It should be free of dirt, dust, mold, mildew or other particulates. Pressure washing a fence is a good idea, too, especially if there was already a stain on the surface that was wearing down over time (you can also gently pressure wash a deck, but don't go too far). You may find that decks have unwanted residue or stains left from furniture, BBQ grills, pets and whatnot – using a wood cleaner before staining will help produce a better wood stain result. Your Bonds Décor Ottawa stain specialist will be happy to work with you on making the most and getting the best results from your wood staining project.
Good question! Wood staining around your home exterior requires some planning and prep. Any surface that you don't want stained should be protected properly before proceeding with the staining. Porous surfaces like concrete, stone, brick, and masonry can be treated with water to protect them while you are staining. Use a mixture of dish soap and water. The higher the humidity and higher the temperature outside, the longer the surface will stay wet. You may notice that grass gets a little discoloured near the fence or deck that is being stained; over time this will disappear as the grass grows new grass comes in. Stain that gets onto metal surfaces can be cleaned off with a dry wipe or, in some cases, special hardware. Your Bonds Décor Ottawa stain specialist will be happy to work with you on making the most and getting the best results from your wood staining project.
For the best results, it is best to avoid staining in direct sunlight. If a second coat of stain is needed, wait four hours before applying. Depending on the temperature and humidity, deck stain will need anywhere from 24 to 48 hours to dry. Don't use the deck until stain has dried in order to ensure the best finish.
You will notice sticky patches or puddles on the deck which won't dry. Wood stain is absorbed by the wood, and using too much stain will oversaturate the wood and keep it from absorbing any more stain.
In some cases, it is possible to apply new deck stain over old stain. These cases include:
Applying a similar or dark-coloured stain over a light-coloured stain.
Applying a light-coloured solid finish stain over a dark-coloured stain.
Applying a solid finish or semi-transparent stain over another semi-transparent stain.
Applying a solid finish stain over another solid finish stain.
That being said, it is still possible that these reapplication scenarios will not give desired results. It is always best to strip the old stain before applying a new stain.
Let Us Know

How Bonds Decor Can Serve You!

At Bonds Decor we're proud of our Ottawa roots, serving this amazing community for nearly a century. We've helped tens of thousands of Ottawa residents make their homes and businesses more aesthetically pleasing – and their lives a little better in the process. How can Bonds Decor help you?
Ottawa Showroom
1242 Bank St.
Ottawa, ON K1S 3Y3
Stittsville Showroom
150 Iber Rd.
Stittsville, ON K2S 1E7
Ottawa Industrial Location
2212 Gladwin Cres.
Ottawa, ON K1B 5N1